Productive24 among the winners of the Modern Retail Awards 2023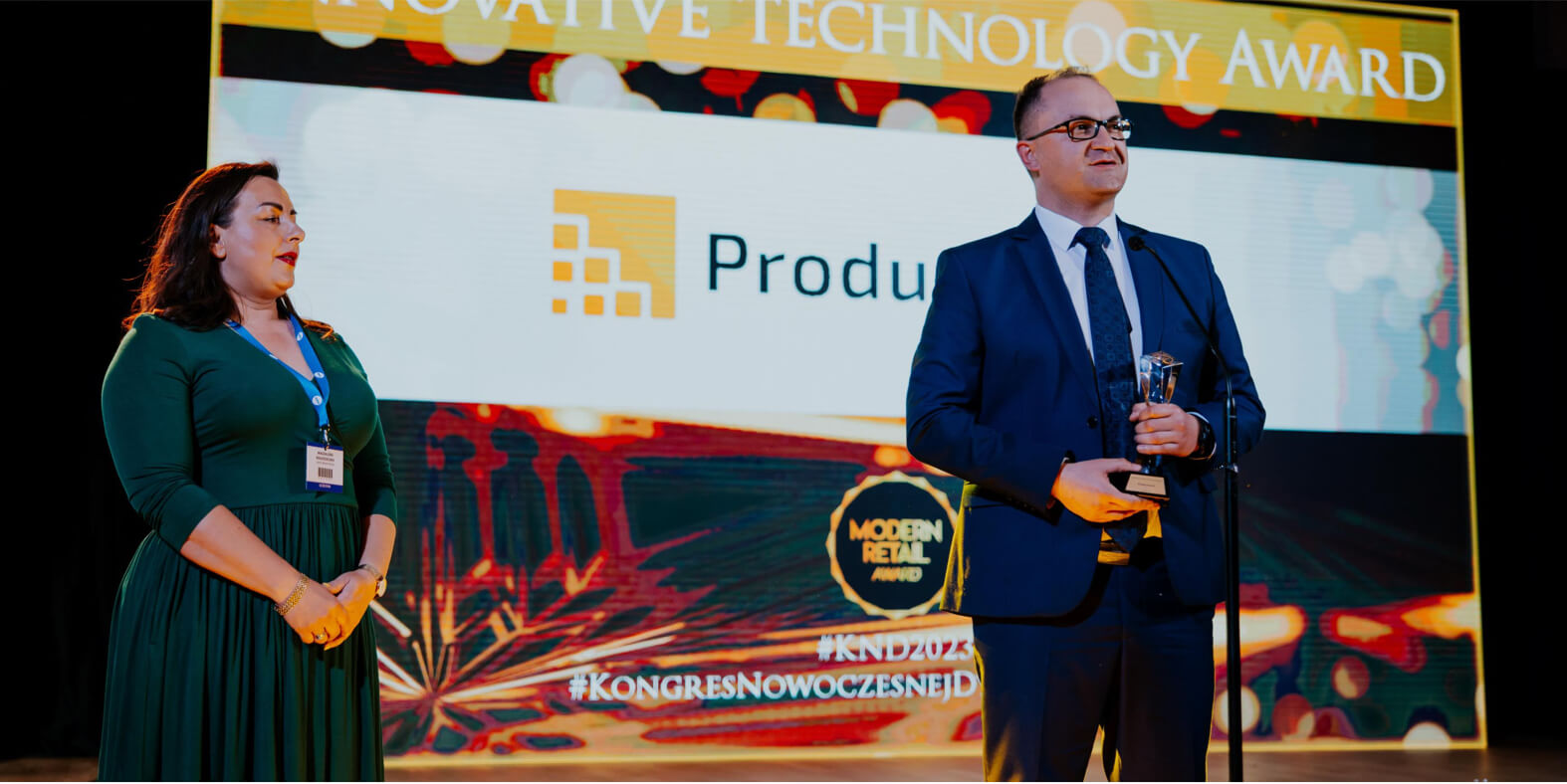 We are excited to announce that we've been recognized twice this week! This time, Productive24 has been honored as one of the recipients of the Modern Retail Award in INNOVATIVE TECHNOLOGY!
For the fifth time, the largest retailers in Poland met during the Modern Distribution Congress co-organized by the Polish Trade and Distribution Organization (POHiD). It is undoubtedly one of the biggest modern trade events in Poland. The event was attended by the representatives of Polish and foreign retail chains, e-commerce, retailers, shopping centers, manufacturers, logistics representatives, environmental entities, professional institutions, and companies providing a wide range of trade services and modern technologies. Such a representation of sector experts ensured the highest substantive value of the event.
About Modern Retail Awards
Modern distribution is modern technology, too. Thus, we were more than happy when Productive24 was recognized by the jury and received a Modern Retail Award in "INNOVATIVE TECHNOLOGY". According to the host of the event, "The Modern Retail Awards competition aims to recognize companies that have contributed to the development of the retail and distribution sector. Awards will be given to manufacturers, organic and local product companies, farmers, start-ups, as well as technology companies that implement innovative solutions in the sector"(KND).
Prize for Productive24
The award we've received (twice in the last few days!) was in recognition of our project for Leroy Merlin i.e., digitization and automation of the process of launching new products. As a part of the project, the team of our business analysts built (almost at the speed of light) a comprehensive B2B platform for more than 1,000 suppliers of the chain and improved the process of updating its product offerings. The application is known to users as "Workflow Tool". The implementation brought numerous benefits to Leroy Merlin, among others:
Reduced SLA time – TTM was reduced by more than 52% (from 21 to 10 days).
Immediate implementation of tailor-made IT solution build in low-code/no-code technology.
Replacing inefficient solutions with a modern and intuitive IT platform with a very secure access policy.
Transparent product launch process – everyone involved in the process can easily track at what stage the "reference" is.
Efficient and transparent communication – elimination of unnecessary e-mails, automatic notifications, saving time, and taking the heat off teams.
Tracking the "referencing" time – the application measures the actual time of creating a "reference" at each stage.
Improved data quality – thanks to automatic validations and predefined dictionaries, the application ensures the correctness and completeness of data, reducing the risk of human errors and negligence.
Automatic system integrations – the solution has been integrated with 7 major global IT systems at Leroy Merlin.
Modifications implemented on-the-fly – the platform's architecture allows for the rapid creation of new applications or adaptation of existing ones to meet Leroy Merlin's current business needs.
The fact that we've been recognized is a clear sign that process automation can yield amazing results. If carried out with proper technology, it would give companies technological and business agility, which in fact is a key driver to a long-term competitive advantage.
To learn more about the Productive24 project at Leroy Merlin, download our case study.
This award with no doubt confirms that the Productive24 platform is a perfect response to emerging needs for the digitization of retail companies and remains a perfect solution for streamlining their business processes. It is worth mentioning that Workflow Tool is just a single example of the platform's capabilities to support the retail sector.
More digital opportunities in modern commerce
How does the trade sector take advantage of the Productive24 capabilities, in order to automate its operational, HR, and trade processes? Many FMCG and retail companies encounter an increasing demand for the digitization of their unique processes. However, digital transformation usually comes with many challenges and limitations. IT projects are most often executed by either implementing off-the-shelf solutions or hiring specialized software companies to create customized systems. Both methods, however, have some major flaws. Ready-made solutions, although relatively cheap and quick to implement, have extremely low flexibility, so they cannot really reflect the unique needs of the company. On the other hand, building customized software from scratch is time-consuming and quite expensive. Productive24 removes those barriers. Thanks to our platform, tailor-made applications for retail and FMCG can be built within days/weeks.
Our ready applications for even faster digitization!
Our platform also offers a bunch of ready-to-use applications, which often complement other ERP systems used by companies and support, for example: product management (Product Information Management, Product Lifecycle Management, Quality Control), marketing and sales (Promotions Management, Budgeting and pricing policy, discounts), logistics (Fleet Management) or even comprehensive HR processes – from the recruitment, through onboarding to offboarding.
Most importantly, all of these solutions can be fully tailored to a company's specific processes and integrated with other internal systems, such as SAP.