Productive24 accelerates digitization in Leroy Merlin!
Assortment management has a bunch of challenges for retail chains. How to quickly streamline trade and operational activities with the aid of modern technology? Leroy Merlin has decided to try our solution and automate its processes with Productive24.
Assortment management and competitive advantage
In response to growing consumer expectations, retail chains are increasingly eager to introduce new products or modify their current offerings.
Building a competitive advantage is a long and complex process. What's more, it requires conducting systematic market analysis in order to appropriately meet customer needs, while ensuring business continuity and profitability of operations. In response to growing consumer expectations, retail chains are increasingly eager to introduce new products or modify their current offerings. More variety means more choice, and a rich assortment is undoubtedly appreciated by customers. From the chain's perspective however, having a wide range of product lines increases the number of challenges. The more products, the more complex the processes of bringing them to market, managing product information, and updating them. Another risk includes the greater chance of human error or ineffective operations. That's why it's so important for a company to be able to adapt its operational activities to follow the pace of developing its offerings. Without a sufficient IT background, this might be a very difficult task.
The automation of the product launch process in Leroy Merlin
The Leroy Merlin chain faced the need to automate its product launch process. Mapping and accelerating the processes of introducing new products to the market and updating current offers in both channels modern and e-commerce, became one of their key goals.
Product referencing – this term is used internally in Leroy Merlin and simply means the process of launching new products as a part of updating current offerings, both in the offline market (brick-and-mortar stores) and in the online channel (e-commerce).
There are nearly 80 Leroy Merlin large-format stores in Poland, which serve around 40 million customers annually. The company offers tens of thousands of construction materials, finishing materials, and interior decorations for both individual clients and professionals and is systematically expanding its product range. Launching new products is a process called by Leroy Merlin "the referencing." This process is based on various workflows and includes more than 100 internal stakeholders and all the chain's suppliers in Poland, i.e. more than 1,000 companies.
Given the scale of the process, the retail chain needed an end-to-end solution that would reduce time-to-market and eliminate time-consuming manual work.
For creating a customized solution to support its process of referencing, Leroy Merlin decided to choose Productive24. The tailor-made B2B platform was built in a relatively short period of time and allowed to achieve all the intended project business goals, bringing the company more benefits than expected (among other things, it reduced the time of the referencing by more than 50%!).
Main KPIs:

elimination of the manual dispatch of at least 180,000 e-mail per year

increased efficiency of the product launch process
business processes continuity
We highly encourage you to download the case study, so you can learn about:
What factors led Leroy Merlin to decide to automate its reference process?
How did the process of expanding and updating the assortment change over time?
What did the communication of the change look like, both inside and outside the organization?
How did the company streamline and standardize collaboration with more than 1,000 of its suppliers?
What benefits did the company gain from automating the product launch process?
Fill up the form below to download the case study: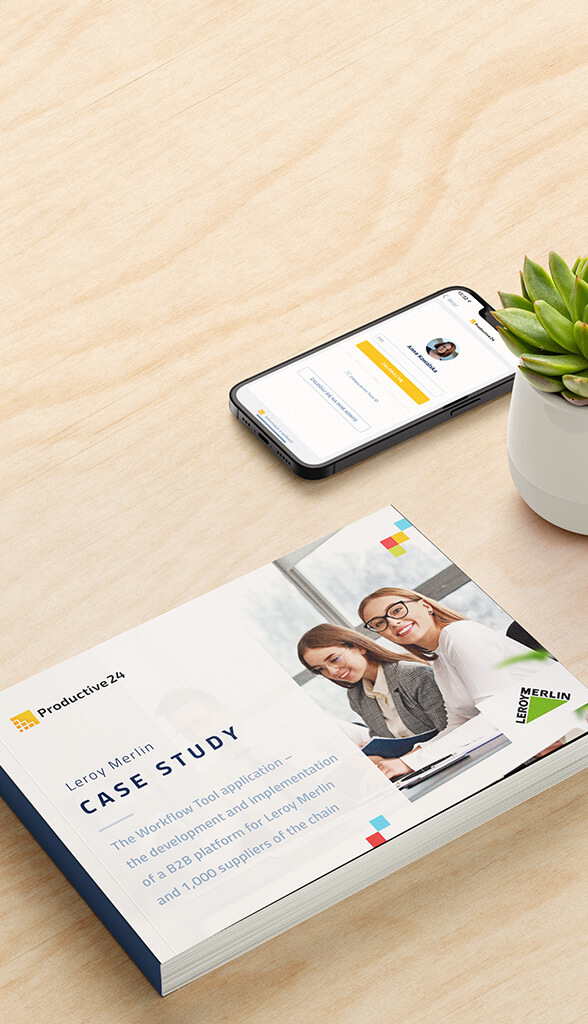 More information: "Customized B2B platform at Leroy Merlin"