Potential of mobile apps in HR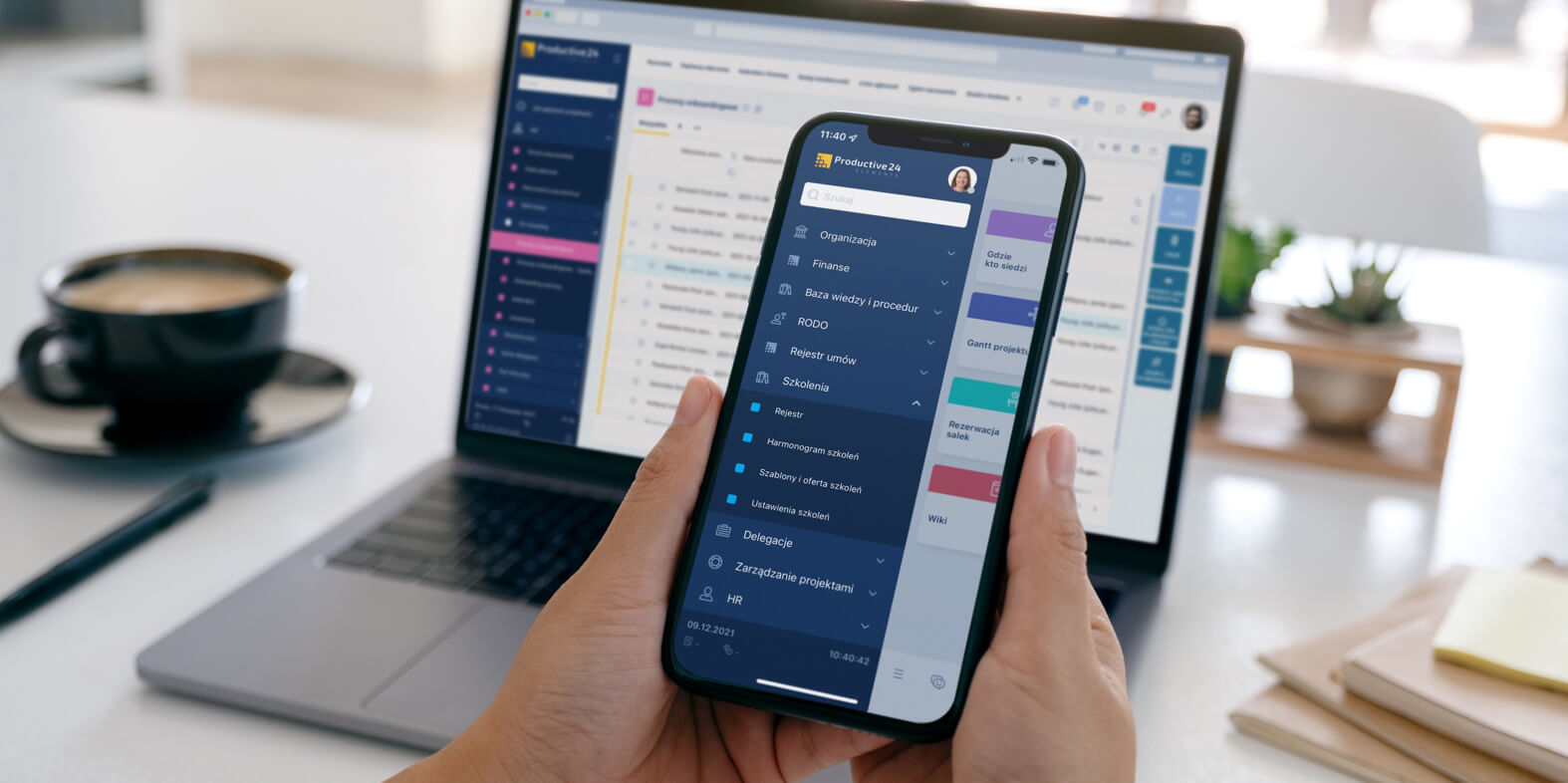 Mobile applications are an inherent part of our smartphones. For many companies, they are also a key working tool which links the employee with the headquarter as well as with the rest of the staff. How can HR departments take advantage of the main capabilities of mobile apps?
An app for every smartphone.
Mobile applications are available at any time for anyone. They facilitate many everyday activities – we use them while driving or shopping, they also help to carry out bank transactions and provide entertainment. They underline the presence of modern technology in our everyday life. Could mobile applications help to achieve higher job satisfaction and cause an increase in the efficiency of our employees?
Employees convinced that their company is perceived as a technological leader are much more committed and satisfied with their work. Nearly 70% of them think that technology helps to find the Golden Mean – a well-known: Work-Life Balance. The possibility of using mobile applications at work helps to build a modern image of an organization that is ready for changes and new trends.
Mobile applications also support various departments of the company, e. g. for mobile workers (sales representatives, interviewers, merchandisers, service technicians, etc. ) SFA/FFM mobile systems are the main tools to facilitate the whole filed force. However, mobile applications can be used in many ways including both internal communication and other HR processes. How can human resources and human capital management departments simplify their work with the use of technology? Below we present the list of selected benefits that mobile applications bring in the area of HR.
Effective Internal Communication
In many companies, HR departments are responsible for internal communication and the flow of information. However, e-mails are still the most commonly used tools to communicate with employees, especially in companies without any online system. This method despite being simple and cheap is certainly not effective and doesn't meet the requirements of a modern organization.
The mobile phone is the most popular tool for internal communication. With the aid of an appropriate mobile application, it turns into a mobile terminal and the main communication channel. Thanks to push messages, employees can receive any notifications and reminders on their smartphones, e. g. upcoming or overdue tasks, pending applications or key messages from the board. What's more, the required action can be performed easily from the level of such a message without using the computer.
Smartphones guarantee continuous access to information. Automated internal communication via mobile phone allows not only to increase the effectiveness of the HR department but also relieves HR specialists from tedious, manual work or repetitive, routine activities. The fact that the phone is always at hand gives us the ability to reach our employees very quickly but to a certain extent in accordance with work-life balance philosophy.
Easy contact with the employees outside the office, additional feedback channel.
To make the whole communication process as effective as possible, we should ensure that it works both ways and allows for quick feedback. Internal communication based on the IT system with built-in group work functions, such as a commenting or notification system, significantly improves the decision-making process alike in the area of HR and other business units. Access to the company's internal system via smartphone – from anywhere in the world and at any time – not only helps to automate the transmission of relevant information but above all prevents employees from "losing" or missing the messages they should receive. If subsequent notifications do not engage the employee to become familiar with the content and further inactivity is recorded, the whole incident may be reported to the superior (escalation).
Additionally, it is very important to implement an internal, secure chat such as well-known mobile or social media communicators. The contact list will be constantly updated as the chat is built into the company's group work platform which is dynamically adjusted in accordance with any changes within the structure. Thus, it allows you to contact any person in the organization (also via smartphone).
Better motivation for remote employees and organizational identification.
Sales representatives, agents, delegated employees, fitters and installers, remote office workers, temporary or outsourced employees… people without quick access to the company's IT platform, may feel excluded. Without the reflection of the internal functions of the HR system in mobile applications, the process of motivating mobile workers may be negatively affected. Unlike, remote workers provided with mobile applications that grant access to the digital workplace, identify themselves much better with the organization.
Mobile applications are very useful for field workers in terms of data collection automation. Moreover, they improve communication between workers and the HR department. No need for memorizing the information, sending them through e-mails or sharing them during occasional meetings – most of the communication can easily be transferred to the IT system.
Mobile HR processes (but not only).
Quick acceptance of employee requests, immediate updates of task statuses in projects or processes – these are just a few examples of the possibilities of mobile applications. Reaching the company's platform through mobile applications is necessary for an organization striving for maximum productivity. The ability to make decisions with just a few clicks on your smartphone could be very convenient for both busy managers and people who often work outside the office.
A perfect example of using the capabilities of our smartphones is mobile settlement of business trip expenses with the use of OCR (Optical Character Recognition) technology – image scanning and automatic recognition of the characters (video below). Invoice details obtained from the OCR are automatically inserted into the delegation billing form. OCR can be used not only to easily record invoice details in the settlement of business trip expenses process but also to record all other costs.
The OCR accelerates and facilitates work with accounting-related documents and helps to minimize the risk of human error.
The use of OCR software accelerates and facilitates the work with accounting-related documents and helps to minimize the risk of human error. Loading data automatically from OCR into appropriate fields on certain forms or in the cost accounting module enables employees to avoid the need to enter the data manually. The employee only has to confirm if the data is correct and can edit it if necessary
Another amazing function of smartphones is the possibility to quickly sign the documents with the touchscreen. This function is well-known, especially by couriers or postmen. How that can be applied in HR or other departments? Documents that do not require a qualified signature or paper form can be signed using that method. An example of using a signature on the touchscreen is signing the zero-hours contract or the confirmation of handing over the office car which will be registered in the Fleet Management Module. Of course, the possible applications for this type of signature are limitless – it can be implemented in any process, depending on the needs of the company.
In order to make the work with a large number of different company resources easier, an organization may decide to mark those resources with barcodes, QR codes, NFC tags or by using their GPS location. Thanks to built-in tools such as camera and NFC sensor, employees can easily enter and search data using their smartphones or tablets and report on the daily tasks (e. g. the results of the security guard's circuit or of the professional inspection etc.). These methods allow us to quickly find detailed information about any of the company's resources such as equipment, machines, cars, as well to effectively manage the field force.
24/7 offline access to the knowledge base, training, and remote work? Definitely POSSIBLE.
Training and development of professional competences are part of the main duties of the HR department. Usually, HR employees delegate them to adequate specialists. However, they must take care of all organizational matters, such as registering participants, checking that they have arrived at the training, collecting confirmations for the completion of the course by employees, etc. Many activities related to training can be transferred to the mobile application. An employee can, for example, receive information about the training and a push reminder to attend it on there mobile phone. He can also confirm his attendance at a training course and receive a certificate through a mobile app. All HR activities in this area can be automated and streamlined.
Mobile applications can help to effectively train blue-collar workers.
It is also important to use mobile training applications either as a replacement of the stationary ones or complement version of them, especially for blue-collars (working at production lines or in warehouses).
Due to some problems that may occur in this type of work (GSM signal coverage problems), it is significant to ensure that those employees (for example customer advisors in large stores) have constant and offline access to the knowledge base (e. g. to the WIKI database on products on sale, current promotional campaigns or certain procedures). Thus, it is crucial to find an appropriate mobile application that works offline.
Mobile applications in Productive24
Using smartphones in the streamlining of not only HR processes but also other important business processes is crucial to achieving greater efficiency. All of the functionalities mentioned above are offered by the Productive24 platform and by the Productive24 HRM system built on its basis. Moreover, applications in Productive24 are available for all leading mobile platforms (iOS, Android) and Windows10 and of course, they run offline!