New quality in business software development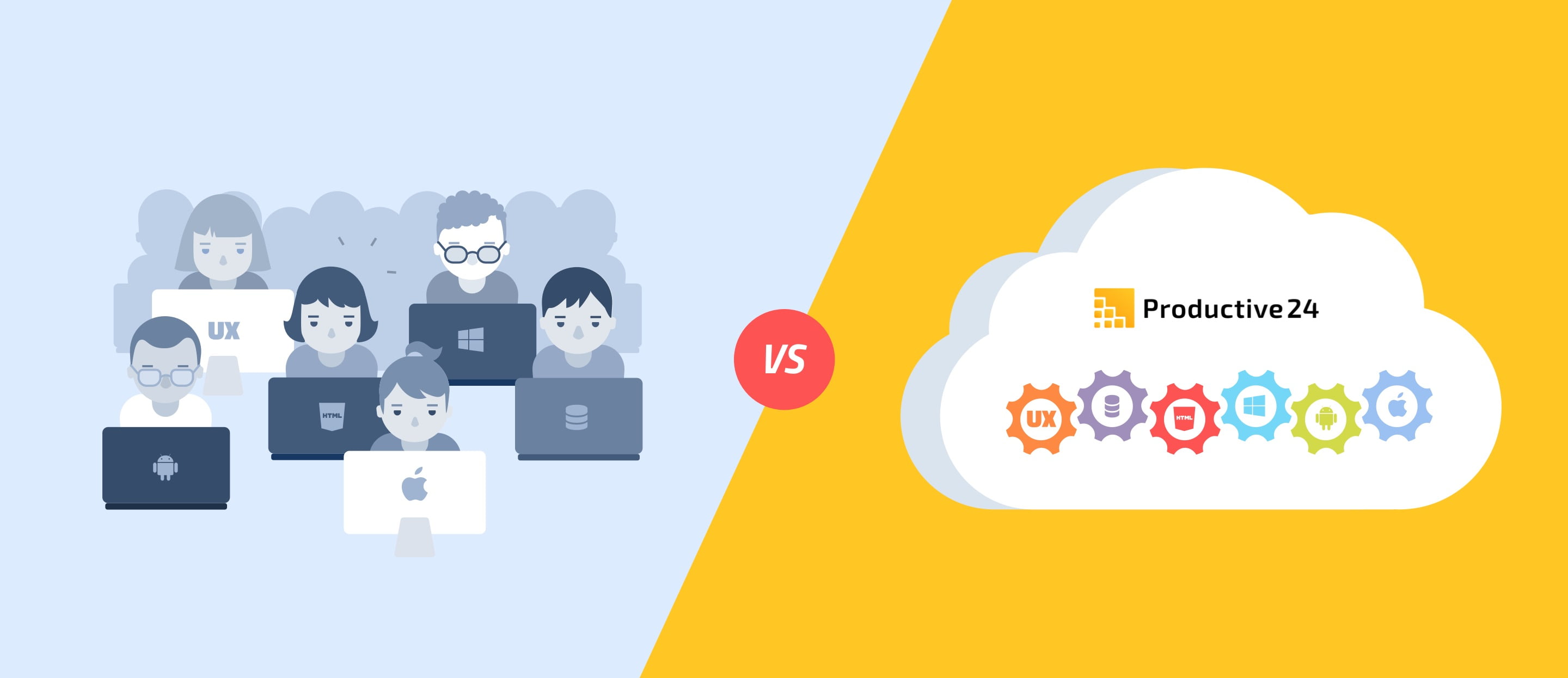 Can you build a sophisticated IT system in just a few days? After several years of development, we are releasing the Productive24 platform on the market – a solution that automates and accelerates the process of software development.
The terms "robotization" and "automation" ignite the imagination of entrepreneurs and investors all over the world. They are associated with a vision of the future in which machines and algorithms will replace humans in jobs which seem tedious, repetitive and are often performed ineffectively. This should bring savings and minimize the risk of human error. We have already provided such a solution – in the area of software development.
Productive24 enables non-technical persons to create custom IT systems without the participation of programmers.
The Productive24 platform allows non-technical persons, e.g. business analysts, to create customized, sophisticated IT systems for departments and whole companies or institutions – without the participation of programmers. This enables companies from any industry to receive unique IT systems for their needs even within a few days. Such a solution constitutes a breakthrough in IT productivity.
Productive24 is a response to the rising prices and market availability of IT specialists, long waiting times for custom software delivery and limitations of ready-made "box" solutions. With the help of the platform, a business person, for example an analyst, can independently configure, from start to finish, a sophisticated IT system dedicated to a particular department or a whole company. Depending on how complex the software is supposed to be, it may take only one day to several weeks to develop the system.
Using the standard method of software development, a medium-sized IT project usually involves from a few to over a dozen specialists: from an analyst, through the project manager, to security specialists, UX, server programmers, mobile platforms, testers, and so on. Productive24 usually requires only one person in place of the whole team.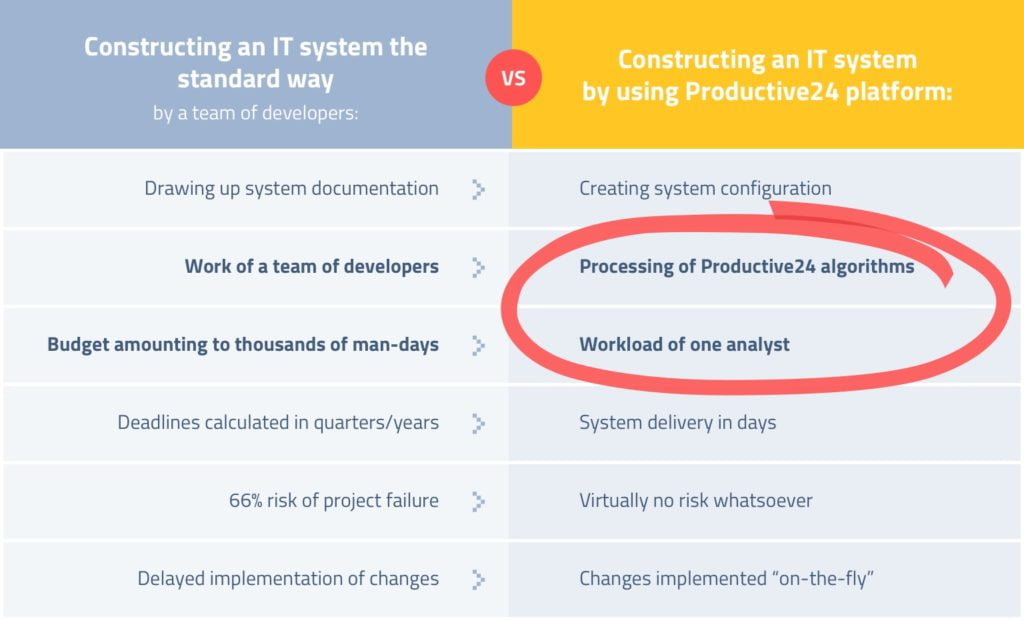 Key benefits
By automating the process of creating business software, Productive24 changes the rules of the game on the market of software providers. The fact that a fully functional, sophisticated IT system can be created by literally one person leads to a number of business benefits. First of all, these are costs – reduced by orders of magnitude in relation to the standard method of software development. Secondly, almost zero time-to-market – the time of delivering solutions to the market is calculated in days. Thirdly, accessibility – once configured, the system is available immediately both in the form of a web version and native applications for iOS, Android and Windows 10.
The customer receives a flexible system, fully tailored to their specific requirements and individual needs - quickly and cost-effectively.
The process of deployment has been virtually eliminated – everything takes place in the cloud. Any changes to the running software are also made on the fly. As a result, the purchaser receives a flexible system, fully tailored to their specific requirements and individual needs – quickly and reasonably priced. Such a system can be further developed in an equally efficient way.
What can be created with Productive24?
The answer is simple: just any kind of business system. From simple modules facilitating everyday work, such as company resource reservations (cars, conference rooms, equipment) to advanced CRM, HR, SFA, DMS and other systems tailored to individual needs of companies. The platform enables the user to reproduce any complex business process, as well as reflect the 1:1 ratio of the organization's structure and the different levels of access rights related to it.
Productive24 also proves its worth where large, core domain systems (e.g. ERP) which function in enterprises are inflexible or show some deficiencies, while their development or adjustment is time-consuming and not economically viable.
In addition, the platform facilitates information security management in the event of migration of applications and processes previously dispersed in various systems, including older ones. Integrating them into a single, coherent solution in Productive24 also makes it easier to analyse them.
Distribution models
Software created with Productive24 is available in the SaaS model (Software-as-a-Service), while the platform itself will be also available in the PaaS (Platform-as-a-Service) model. What does this mean in practice? Systems created based on Productive24 can be built both by eLeader analysts and – in the future – by trained staff from the clients' business or IT departments and from the client's partner companies (other IT and consulting companies).
About eLeader
eLeader is a Polish tech company that has been developing its own IT products for business for nearly two decades. The company is a pioneer in mobile solutions used by banks and international corporations such as Tchibo, Danone, Lindt, Haribo, BIC, LG, Lenovo, Samsung and other well-known brands. Solutions from eLeader, implemented in over 80 countries around the world, are also widely recognized in the rankings of the most important analytical companies such as Gartner.